Experiments with Local Flora
Harper Luna posts updates on yeast experiments at Outpost 3 and shares a scrumptious recipe for peanut butter & jelly bread pudding.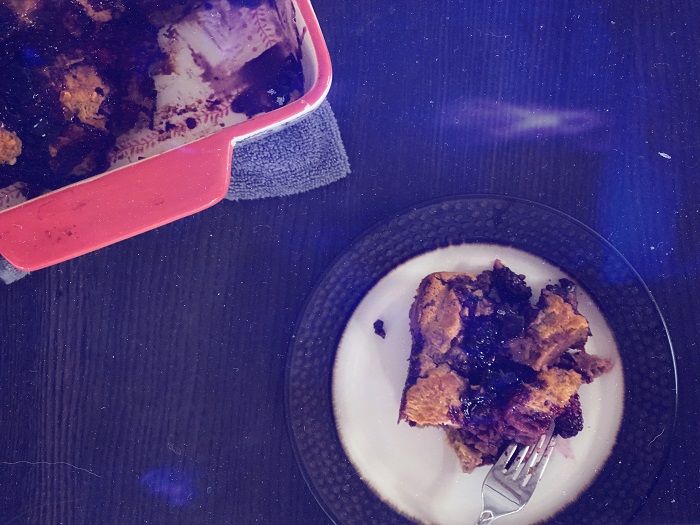 Exciting news from Outpost 3! We've been running some home kitchen experiments and have discovered that we can use the wild yeast in Ocasta's atmosphere to make leavened baked goods! We have been in sourdough bread heaven. At least, I have. I've got three jars of starter on my kitchen counter. I know what you're thinking—there's no way a single woman can use that much sourdough starter all by herself—and I concede that I may have gone a little overboard, but they do make for neighborly gifts once they're established.
The neat thing about our particular population of wild yeasts out here by the sea is that they glow the same purple coloring as the water. On some nights, the air is filled with a soft purple haze that feels so enchanting, like something out of an old Earth fairytale. The glowing mists of Wardenswood—that even sounds like a fairytale, doesn't it?
At any rate, it does not make the baked bread glow, but the starter does, & the rising unbaked dough. I confess, this effect is directly what led to my three full jars of starter. It's almost a shame to bake it, but then that incredible fresh-baked bread smell fills my home and it produces the tangiest, loftiest sourdough ever. I don't mean to make you jealous, Earthers, but I never had bread this perfect back home.
Some outpost residents refuse to eat it, which I think is a shame. Sam and Pele think the bread is what's responsible for that vivid shared dream the entire outpost experienced. The outpost neural researchers say that's impossible, but we all noticed that they didn't have any other explanation for it. As you might imagine, lots of superstition and speculation has been rushing to fill that gap in our collective knowledge.
For my part, I haven't had the dream since and I've been practically living off this bread in one form or another for the past week. I know it won't be quite the same back on Earth, what with your normal non-glowing Earth yeast and all, but if you have a day-old loaf of brioche or challah, you can still make a pretty good bread pudding, which is my recipe for you today.
Our food production is still getting off the ground, so we're making do for most of our meals with tinned products that we brought with us. I opened a new jar of extra crunchy peanut butter this week and it occurred to me that I might not ever get peanut butter again, pretty soon. I haven't seen peanuts listed on the introductory starter crops and I don't think they would do well in this cool northern climate, at any rate. Maybe once they get some colonies established closer to the equator, but I've heard there's all sorts of complications with the southern projects.
Alright, on to the recipe. I first had this at a little pub in my hometown that started, inexplicably, serving brunch on weekends. When I saw it on the menu I thought, peanut butter and jelly sandwich casserole? Is that what you're charging me real money for at this restaurant? But it was surprisingly perfect; comforting and familiar yet fancy and elevated at the same time. Their version was made with strawberry preserves, but I've always had a soft spot for boysenberry and that's what I brought with me on the journey across the galaxy. Use whichever your favorite fruit preserves are and I'm sure you'll enjoy the results.
Peanut Butter and Jelly Bread Pudding
Unsalted butter for the pan
1 cup creamy peanut butter
2 cups whole milk
6 large eggs
2 teaspoons vanilla extract
½ teaspoon salt
3/4 cup brown sugar
1/4 cup white sugar
1 loaf (about 10 ounces) brioche, challah, or sourdough bread, chopped or torn into small pieces
1 pound fresh boysenberries
1 jar boysenberry preserves
1 handful of roasted peanuts
1. Preheat the oven to 350 F. Butter a 9"x13" baking dish (or a shallow 3-quart casserole).
2. Place the peanut butter in the bowl of a stand mixer fitted with a whisk attachment and slowly add the milk, whisking on low until fully incorporated. Whisk in the eggs, vanilla, salt, and the brown sugar.
3. Add the bread chunks and toss to coat. Cover and refrigerate for 30 minutes, giving it a stir halfway through.
4. While the bread is soaking, toss the boysenberries and the white sugar together in a medium bowl. If you want to get extra-fancy, add a splash of berry liqueur at this stage (entirely optional). Set aside and stir it around occasionally to help the berries macerate.
5. Transfer 2/3 of the bread mixture to your prepared baking dish and spread it into an even layer. Dollop with spoonfuls of about half a jar of preserves, then scatter half of your berry mixture on top.
6. Top with the remaining bread mixture, then more berries and the juice from the bowl.
7. Cover with foil and bake for 15 minutes, then uncover and bake for another 35 to 45 minutes until just set.
8. Spread the remaining half jar of preserves over the top and let it rest for 5-10 minutes, then sprinkle with roasted peanuts and serve warm.
Serves about 12