I feel like I haven't slept in a week. Those eyes...
Harper Luna shares her family's favorite gingerbread pancake recipe for the ultimate comfort food after waking from nightmares on a strange planet.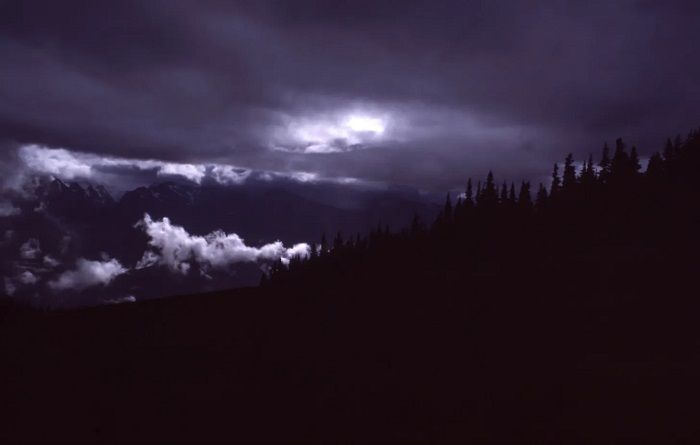 Have you ever had a weird dream, like you wake up in your own bed and you can feel the breeze from your air purifier softly stirring the hairs on the back of your neck, the difference in temperature as the warmth from your bedding slides off you and you rise up into the cool dark. Then in the dream you follow the soft blue glow of the LEDs that mark where the walls meet the floor and you shuffle into the deeper dark of your apartment.
At this point, if you were awake, you might go to the kitchen and get a glass of water. But you're not awake and so instead, instead you walk out your front door and find that the building's normally well-lit hall is as dark as your own bedroom. Your sleeping brain reasons it's a power outage, which aren't common but aren't so uncommon, either.
You walk out the front door of your building and your bare feet feel the shock of cold, damp ground beneath your feet. Alien ground, you remember. And you look up at alien stars, at the Sagittarius orbiting, watching the settlement's progress. You wonder when we're going to get around to naming new constellations and then you wonder if, when the first baby is born on Ocasta, will anyone remember to assign it a new astrological sign?
Then in the dream, a figure comes through the gates to the outpost, which should have been locked up tight but are instead wide open and also dark. And the figure is not human, not at all. It walks in on hooves made of shining light and its eyes, three pairs and solid glowing white, stare directly at you. It raises a hand—in greeting? Warning? Urgency?—and then you wake up.
I'm still woozy, but tea is helping. I promise I'm not going to turn this blog into a dream journal, ha ha, but I wanted to get it down before I forgot it. Anyway, today's recipe is gingerbread pancakes! The weather at Outpost 3 has been chilly and foggy, and I finally unpacked my dried spices reserves so here we are. Vee found a plant in the Wardenswood that is quite similar to Earth's ginger, so I grated some of that up into the batter as well & it gave it just the right amount of fresh, sweet heat. If you make these, let me know how it goes!

Gingerbread Pancakes
Adapted from NYT Cooking
2 cups/256 grams all-purpose flour
2 tablespoons dark brown sugar
1 ½ teaspoons baking powder
½ teaspoon baking soda
1 teaspoon salt
1 tablespoon ground ginger
1 tablespoon ground cinnamon
½ teaspoon fresh ground nutmeg
¼ teaspoon ground black pepper
¼ teaspoon ground clove
1 ¼ cups whole milk
½ cup unsulfured molasses
2 eggs
3 tablespoons unsalted butter, melted
1 teaspoon finely grated fresh ginger
½ teaspoon finely grated lemon zest
1.    In a large bowl, whisk together the flour, brown sugar, baking powder, baking soda, salt, and spices.
2.    In a separate bowl, whisk milk, molasses, eggs, melted butter, fresh ginger, and lemon zest until well combined.
3.    Add the wet ingredients to the dry & fold in until just combined (with lumps).
4.    Heat a nonstick or lightly greased griddle or skillet over medium-low heat. Drop the pancakes into the pan and leave room between for the batter to expand, about ¼ cup scoops at a time.
5.    Cook until the batter bubbles on the surface and browns on the bottom, about 1 to 2 minutes, then flip and cook on the other side until done. Pancakes should be somewhat dark brown.
6.    Serve with butter and maple syrup or (my favorite) lemon curd.
Photo by Les Anderson on Unsplash