Beach camping along the Balius Sea
In this week's Breakfast Serial, Harper Luna makes some new friends and a hearty frontier breakfast of steak, cheesy eggs, and skillet corn cake with jalapeño butter.
I remember back in my college days, the apartment I lived in was always in a state of flux. Someone was moving in or out on any given day and the halls were at all times filled with the sound of physical exertion, visitors knocking on the wrong doors, introductions and farewells being made in front of the coin-op washing machines in the basement.
The activity and the knowledge that every day might bring you new neighbors to invite around for a study group or a party carried its own particular sort of human energy that I had forgotten about after graduating and settling into homes where people took lease terms seriously. And I had not realized that I missed it until this past week at Outpost 3.
Ames and I, being on two different career tracks and only assigned a cabin together aboard the Sagittarius by random lottery, quickly lost each other. We promised to keep in touch and grab breakfast weekly, of course, but it's just been so busy! I feel as though I've met more new people in the past week than I have in my entire life up to this point.
And not just from the Sag, either! A group of warm and rowdy folks came all the way down from Outpost 2 to give us a warm welcome. They even brought a few bottles of something approximating ale that they've been making with the local plants.
It's funky, like a fruity sour ale, with a vibrancy to it from the local yeast. They claim that this counts as important biological research and were delighted to present us with the first alien ale. I can't say I like it as much as a pint of something from Earth, but I could see it grow on me. Especially once everyone here runs out of their stashes of treats from back home.
Anyway, once I found my assigned apartment unit, I went around and met some of my neighbors just like back in those old college days. I won't use their full names here to protect their privacy, so let's just call them Vee, Sam, Pele, and Joy, and Joy's little girl who we'll call Bex.
Vee is a botanist and they could not get enough of Outpost 2's wild Ocasta ale. They're a wonderful neighbor, if a little distracted at times by their research. When Vee announced they were going off on a foraging hike to see if they could find any edible plants, I fell all over myself to ask if I could come along and Vee agreed without any hesitation. We found some little green shoots that turned out to be very similar to green onions back home (more on how we used those later on down the post!) and some bushes that Vee thinks might produce berries of some sort in the right season.
Sam and Pele are a couple from Canada, which I only mention specifically because we all thought the Canadians were going to stick with their own colony ships and everyone's surprised to see two of them on an international colony mission.
When I asked them about it, Sam said he and Pele had seen enough of Canada in their lives as it was and had no interest in building New Ontario on a whole new planet thank you very much. Sam is an engineer and Pele was a male model back on Earth. Here at Outpost 3 he's been assigned to building crew and said if he'd known you could get paid to workout instead of the other way around he would have signed up for construction jobs a lot sooner.
Joy works as a detective on the Outpost 3 security team. When she found out I was an investigative reporter, we warily circled each other over a few glasses of Earth whiskey and in the end decided the other was a) on the up-and-up and b) pretty good drinking company.
Her daughter, Bex, is the most precocious little tyke I've ever met (not that I have a lot of experience around kids) and in the week that I have known her has declared herself a pastry chef, future head surgeon, a wild game tracker, and absolutely and without question the next Queen of Outpost 3. I should note, we have no current sovereign roles nor do I think there are plans to. :)
Once we all had a few days to get our apartments set up (this took me maybe two hours; I didn't bring much from Earth and I was eager to get back to exploring the outpost), Sam came around and suggested all of us in our apartment complex take a day trip out to the coast to get to know our region as well as each other. I was sold before he could finish talking.
The thing you should know about the Balius Sea is that all along the rocky, fog-shrouded, coniferous forest coast, the water sparkles a deep, luminous purple where it meets the land. It has been a popular destination, as you might imagine, and in order to keep the whole outpost from being deserted before it can be built, the powers-that-be have decided that we all need special exploration passes to leave town for a day at the beach.
Joy had some words with her boss and managed to get all of us an overnight camping pass! Yeah, I went wild at that, too! Reader, it was the most beautiful camping trip of my life. We walked along the shore, stuck our toes into that (icy cold!) glowing water, explored tide pools, and then huddled up together around a crackling fire, sharing hot tea and cookies and hopes for our new lives.
Word had already gotten around that I love to cook, and I happily took on breakfast duty the next morning, watching strange seabirds wheel high above in the mist. I wanted to make a meal that was homey and comforting while also being easy to cook at a campsite, so I settled on steak and cheesy eggs with a sweet skillet corn cake topped with spicy jalapeño butter.
After we confirmed that the little shoots we found in the forest were safe for human consumption, I threw those in to the corn cake for an herbal flavor to connect us to our new home.
Digging in to hot plates of food and fresh mugs of coffee at the edge of the Wardenswood by this strange sea, I looked at my new friends and neighbors gathered around me and thought: How quickly and naturally the six of us have formed a new family, our own little unit of warmth and care.
The others must have been feeling similarly, because just as I thought it, Vee stood up with their coffee mug in hand and said: "A week ago, I thought I was never going to see my home again. This morning looking at all of you I'm realizing, this is the first time I've ever been home. Here's to the dawn of our brilliant new lives, and to the family we make along the way."
Some notes on the food: This recipe serves a crowd, but it scales easily if you're making it for only a few. I've listed each component of the meal in the order that I make them in. The butter can be made well in advance, the steak does best with an overnight marinade, and the corn cake has a 30-minute resting time before you can start cooking it.
It's fairly versatile with regards to seasoning, too. If you don't like cheddar in your eggs, swap with your favorite melty goodness or leave it out entirely. I've finished the steak with a nice, dark coffee rub after taking it out of the marinade more than once and I highly recommend it if you have the inclination.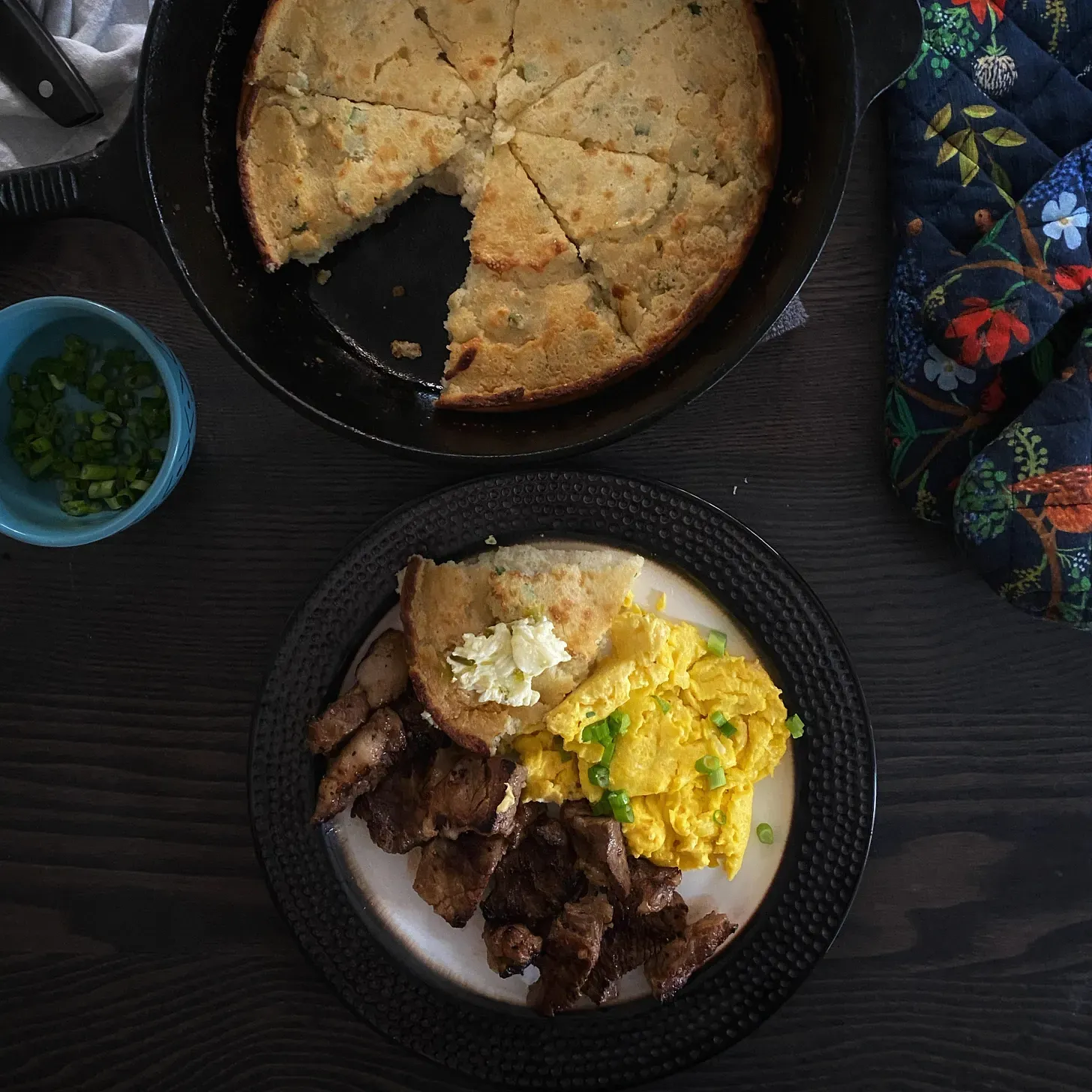 Steak and Cheesy Eggs with Skillet Corn Cake and Jalapeño Butter
Makes 6-10 servings | From Hello! My Name Is Tasty
For the Jalapeño Butter
5 whole jalapeños
4 sticks unsalted butter, at room temperature
3 tablespoons honey
Pinch of salt
1.     On the stovetop or grill, char the jalapeños until they collapse. Place them in a bowl and tightly cover with plastic wrap for several minutes, allowing them to sweat and steam. With gloves hands, skin and deseed the peppers and then mince the flesh.
2.     But the butter in a medium bowl and fold in the jalapeños, honey, and salt until fully incorporated. Set aside until ready to use or store in the refrigerator for up to 2 weeks.
For the Corn Cake
Makes 1 10 to 12-inch cake
Note: You can make the batter in advance and store it in the refrigerator for up to two days ahead of time to save on time when assembling this breakfast. The goal is to have the corn cake into your oven right when you're ready to begin cooking the steak, so that they are resting at the same time.
1 cup plus 2 tablespoons masa harina corn flour
½ cup all-purpose flour
¼ cup sugar
1 tablespoon baking powder
2 teaspoons salt
½ cup finely diced sweet onion
½ cup chopped scallions
¼ cup unsalted butter, melted
2 cups whole milk
3 tablespoons unsalted butter
1.     In a medium bowl, sift together the flours, sugar, baking powder, and salt. Add the onion and scallions to the bowl and stir well. Drizzle with the melted butter and stir well until fully incorporated.
2.     Make a hollow in the center of the mixture, pour in the milk, and stir well, making sure there are no lumps. This batter will be runny at first and you need to set it aside for half an hour so that the butter and milk have a chance to be absorbed and fully melded.
3.     While your batter is sitting, preheat the oven to 350 F
4.     Heat a 10 or 12-inch cast-iron skillet over medium high heat and add the remaining 3 tablespoons of butter. Just as the butter begins to bubble (but before it browns), pour the batter over it to cover the ottom of the skillet. Once the batter begins to bubble up along the sides, transfer the skillet to your oven.
5.     The cake should cook for about 25-30 minutes, but check periodically after 20 minutes by sticking a fork in the middle. If the fork comes out dry, the cake is done.
6.     Let the cake rest in the skillet for 5 minutes before serving.
For the Steak
3-4 pounds cleaned and trimmed hangar steak
½ cup minced sweet onions
2 tablespoons white wine vinegar
2 tablespoons honey
2 tablespoons ground paprika
Oil for grilling
1.     Trim the steak as needed, cut it into 1-inch cubes, and put it in a large bowl.
2.     Combine the onion, vinegar, honey, and paprika in a blender and puree until smooth. Pour the marinade over the steak and mix together well. Cover and refrigerate for at least 1 hour or overnight.
3.     When you're ready to grill the steak, Oil a grill and preheat it to medium high.
4.     Thread 4-5 pieces of the steak onto each skewer, not leaving any space between the pieces. Pour the excess marinade over the meat.
5.     Grill the steak, turning the skewers regularly so that each side is fully cooked, about 8-10 minutes or until medium.
6.     Pull the steak off the grill once it reaches 125 F and let it rest at room temperature for 5 minutes before serving.
For the Cheesy Eggs
The last step, I promise! Start these when you're ready to put the whole meal together (when the corn cake and steak are resting)
12 large eggs
6 tablespoons sour cream
Salt and fresh ground black pepper
1 tablespoon unsalted butter
¾ cup grated yellow cheddar cheese
1.     In a medium bowl, whisk the eggs together with the sour cream until they are completely homogenous and smooth. Season with salt and pepper.
2.     In a large nonstick saute pan over medium heat, melt the butter. Once hot, add the eggs and cook, whisking occasionally until big ribbons form. Take your time with this! They are best when cooked slowly.
3.     When the eggs are still just a little bit wet, turn off your burner and fold in the cheddar. Let the residual heat finish cooking the eggs.
To serve: Slice the corn cake and put 1 slice on each plate. Top each cake with a knob of the room-temperature spicy butter. Divide the scrambled eggs evenly among the plates and sprinkle eggs generously with more of your fresh scallions. Put 1 steak skewer on each plate and serve.