Red Sky at Morning
Harper Luna makes tiny Monte Cristo sandwiches and contemplates the rain.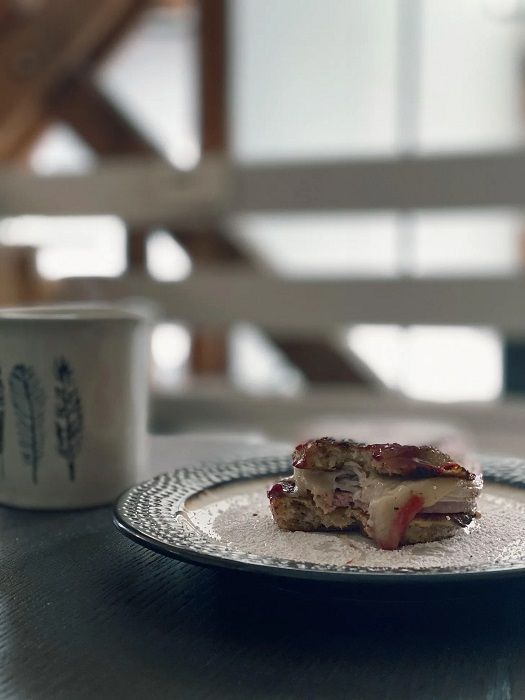 When the sun rises over the forest and hits our little outpost, the rays are purple and blue, with little streaks of pink and orange. Sometimes, like today, the thick dollops of clouds high overhead have a vivid red underbelly. There is an old Earth rhyme: red sky at morning, sailors take warning. Storm's coming, in other words. Ocastan rain is the same as Earth's—more or less. It will be cold and wet and inconvenient to creatures who like staying dry, but a blessing also, bringing water and nourishment.
I made these little sandwiches to bring a bit of comfort to the start of a stormy day. Those English muffins I shared with you earlier? They were a huge hit in our housing unit. I've been making batch after batch (freezing half each time to stash away for later—they freeze beautifully!) and Vee has been providing little jars of jam made from local fruits and berries to spread into every craggy nook.
I thought I would elevate one of her jams while also adding a little fancy protein to the breakfast and came up with these tiny Monte Cristos. You will want to use a biscuit cutter the same size as the one you used to make your English muffins! (You can also use a knife and cut approximately to size)

English Muffin Monte Cristos (makes 2)
2 English muffins
2 eggs
½ cup whole milk or half and half
Pinch of salt
Freshly grated nutmeg
2 slices ham (lunch meat slices)
2 slices turkey (lunch meat slices)
2 slices Swiss cheese
Dijon mustard
Butter
Jam for dipping
Powdered sugar (optional)
Whisk eggs with milk, add salt and freshly grated nutmeg.
Using your biscuit cutter, cut rounds out of the ham, turkey, and Swiss cheese. Make two stacks: 1 round of cheese on the bottom, then the ham and turkey. I used meat that was big enough to get two rounds out of each slice, for a total of four rounds on each sandwich.
Preheat a skillet with a little butter in it to medium low. Dip your English muffin halves in the batter and let them soak for about a minute. Turn to coat the outside.
Place them cut-side down in the pan to griddle. Cook for a few minutes, then flip. To the bottom half of each, add your meat and cheese stack with the cheese touching the bread first. On the other half of the English muffin, add a small spread of Dijon and then put the top side of the muffin onto meat and cheese side. Press down with a spatula to flatten the sandwiches and continue griddling, flipping once, until cheese is melted.
To serve: warm up the dipping jam in a microwave-safe bowl for about twenty seconds (varies by microwave and the amount of jam you want to serve with your sandwiches). You want it just warm, not liquefied. Sprinkle sandwiches with powdered sugar, if you like.